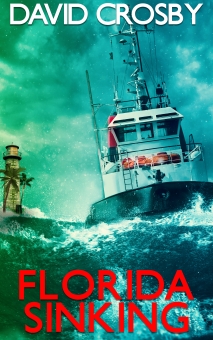 Water, water everywhere--

Deadlier than you'd think!
In Will Harper's latest hardboiled, action-packed adventure, Floridian families are shocked--and occasionally killed--when their brand-new houses start falling into the earth. The culprit? Lethal sinkholes worsened by climate change. But government officials and one particularly greedy developer keep turning a blind eye.

And as the homeowners suddenly realize their sinkhole-ridden land is worthless, they're sometimes driven to homicidal behavior...

Will, a semi-retired investigative reporter turned amateur sleuth, is too big-hearted not to get involved. While researching a hard-hitting expose on climate change and the quality of water in Florida, he discovers the deceitful real estate developer is constructing an entire development on top of a massive sinkhole. Whole neighborhoods could slide into the muck!

The developer will stop at nothing to conceal his intricate fraud, but luckily, Will comes equipped with his ever-sharp prose, his commitment to Florida social issues, his beloved trawler, The Wanderlust, and a little help from his friends.

Still, the shoddy real estate cartel's a behemoth— fortunately for the reader, it won't be easy!

The adventures of Will Harper will be a boon for seafarers and armchair adventurers alike! Anyone who enjoys the work of John D. McDonald and Wayne Stinnett will find a new favorite sleuth. Fans of Zane Mitchell will also appreciate Will's tough but caring--and witty!—style.
Will Harper's World

Sep 14, 2021
by David Crosby
Will Harper is based in Palmetto, Florida, at a marina across the Manatee River from Bradenton. He lives on the Wanderlust, a 57-foot Grand Banks trawler. The SailFin Point Marina in the series is patterned after the Regatta Pointe marina in Palmetto, and has the real Riverhouse Restaurant. Many of the places and restaurants featured in the story are real, and I always try to have the characters ordering food from their menus. If you read of a meal that sounds great, go try it for yourself!